Soft, Natural Looking Results
When it comes to neuromodulator injections (botox) one of the primary concerns for many people is looking overdone. At CaTara Med Spa in Algonquin we always aim for the most natural result.  Baby botox, also known as mico-tox, offers soft, subtle results.
While neuromodulator injections can treat other areas of the body, baby botox is specifically for treating facial fine lines and wrinkles. It is injected into targeted areas with a lower dose of product. It is perfect for someone new to neuromodulators or someone in their 20's who wants to prevent lines and wrinkles from forming.
Baby Botox in Algonquin
Treatment Details
What it Treats
Forehead Lines & Wrinkles
Lines & Wrinkles Between Brows
Crow's Feet
Frown Lines
Lips
Chin
Eligibility
Female and Male
18 or older
Recovery & Downtime
There is no required downtime after Baby Botox in Algonquin. You can get this procedure done on your lunch break and go right back to your regular schedule. We advise no rigorous exercise for 24 hours after treatment, and as always, avoid direct sun exposure. 
While not a painful treatment, we can provide you with an ice pack immediately after your Baby Botox injections. This helps reduce any redness or swelling if necessary.
Why Try Baby Botox in Algonquin?
01
Safe
Not only is Botox FDA-approved, but it's also backed by more than 15 years of clinical studies.
02
A Better Option for Certain Candidates
Those with small foreheads, younger patients in their 20s, or those who do not want their results to look "done" are excellent candidates for Baby Botox.
03
Subtle
Baby Botox is the perfect solution for those who prioritize very subtle results that still make your skin look and feel more youthful.
The Baby Botox Process
What to Expect
Consultation
When you come to CaTara for Baby Botox in Algonquin, you will meet one of our aesthetic injectors for an initial consultation. We'll discuss your goals and desired results and make sure this is the best treatment for your needs. After your consultation, you will know how much product is necessary and the cost of your treatment.
Get Your Injections
To ensure precision and optimal results, we will study your facial expressions and mark where the injections will go. Botox uses ultra-thin needles to minimize any pain or discomfort. We can provide you with a topical anesthetic to numb the treatment area if necessary. After the 10 to 15-minute injection process, you may leave our office and continue your day. However, we do ask that you stay out of the sun without adequate protection and keep your head upright for 4 hours.
Next Steps
After your Baby Botox treatment, we'll give you instructions on aftercare and tips to help you maintain your results. Since Botox is not permanent, you will need maintenance treatments to keep your results long-term. We welcome you to schedule any follow-up appointments as needed.
Pre-Treatment Instructions:
Avoid aspirin (e.g., Bayer, Excedrin) and other blood-thinning medications (e.g., Vitamin E, Fish Oil) for at least 10 days before injections. If you are taking this medication under your doctor's direction, be sure to speak with them for permission before discontinuing it.

Avoid ibuprofen (e.g., Advil, Motrin) for 3 days before injections. Note: if you're concerned about pain or bruising, you can take Tylenol before your appointment.

Avoid alcohol for 2 days prior to injections, as this too can thin the blood and cause bruising during treatment.

Discontinue use of retinoid (Vitamin A) products for 2 days before & after treatment.

Consider a zinc supplement in the weeks leading up to your Botox injections.

Studies have shown

that higher levels of zinc in the body are related to higher efficacy of Botox and other injectables.

Make sure your skin is properly hydrated by drinking adequate amounts of water and using moisturizer morning and night.
Post-Treatment Instructions:
Not touching or massaging the injection site to avoid moving the material to a spot it wasn't intended to be.

Keeping your head upright.

Avoiding direct sun exposure and use sunscreen when outside as UV rays can disperse the injectable faster in your skin, making the effects shorter (not to mention the acceleration of aging by the sun!).

Avoiding scrubs, toners, and abrasive cleansers for at least a week to ensure you do not disrupt the precisely applied Botox.

Sleeping face up and slightly elevated if you experience swelling.

Avoiding strenuous activity or aerobics for 24 hours after your injections.
Frequently Asked Questions
What is the difference between Botox and Baby Botox?
The only difference between Botox and Baby Botox is the dose amount. Typically, providers inject Botox in a dose of 4 units/0.1 ml at a time. Baby Botox comes in 1 unit/0.1 ml dose increments; this allows for a more subtle treatment effect. Baby Botox more readily offers a soft look for those who require less than 20 units of Botox.
How much does Baby Botox cost?
Since it uses less product, Baby Botox typically costs less than regular Botox. We determine the price with factors like the amount of units you receive and the number of treatment areas. Cost is unique to each patient, so the best way to find out the cost of Baby Botox for you is with a consultation.
When will I see results for Baby Botox?
You may begin to notice results within 24 to 48 hours after your injections with full results seen in 14 days.
How long do the results last?
The results of Baby Botox generally last up to 4 months, depending on your skin type and the depth and severity of your lines.
Will my face look overdone or unnatural?
The experts at CaTara have years of experience performing thousands of Botox injections. With all of our Botox treatments, and especially Baby Botox, you can trust that we will deliver subtle, natural results from a highly trained and experienced medical expert in facial anatomy. No one should be able to tell you've had any "work" done.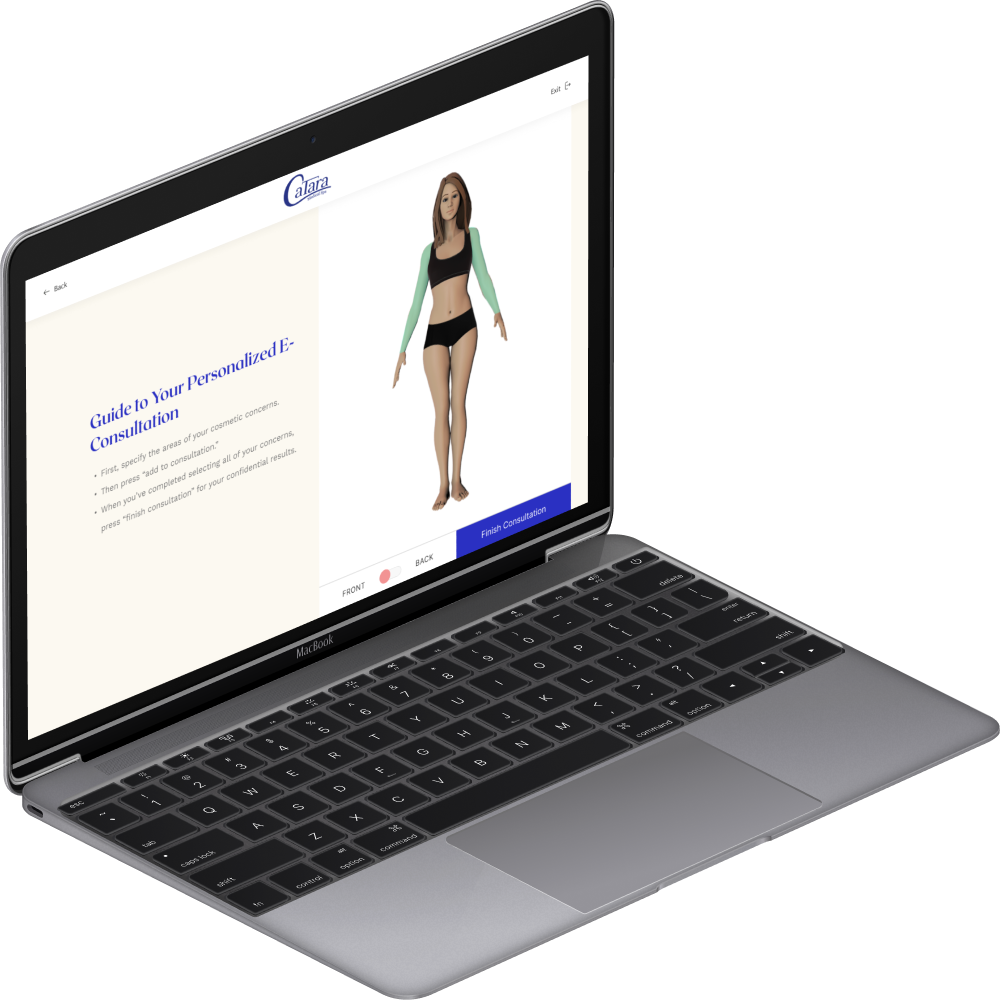 Get Started
Tell us more about what you need using our Virtual Consultation Tool. Simply input your concerns and we'll provide custom treatment recommendations for your unique needs.
Virtual Consultation